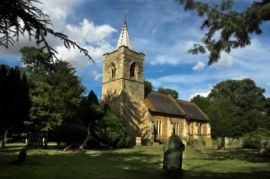 St Cuthbert's Church Brattleby.
Whether you happen to be interested in history or not, almost every adult or child has heard of Henry the Eighth of England. Bear this fact in mind as you read on….
St Cuthbert's church has undergone a huge restoration programme over the last 10 years, complete new roof, re-leaded spire, re-pointing, electrical rewire and new heating/drainage system.
The total cost of this work, is in the region of £160,000. Quite a large sum to raise for a village of 45 houses and 95 residents!
The most recent work to be carried out is that of the removal of parts of the decaying Victorian plaster work and the re-plastering with lime plaster, which allows the walls 'to breath'. The bill for this came to £5500, paid for from the remaining funds of the 'Friends of St Cuthbert's' Church Committee.
Once this has dried out over the summer months, it's hoped a re-decorating programme can commence, which will finally complete the long, arduous and time consuming task of restoring our neglected Grade2* Listed Church!
At the risk of sounding a little boastful, our church is a bit special! Parts of it date back almost a thousand years, we have the base of a Saxon Cross in the churchyard, which is even older (also listed and one of only 3 in the country in its original socket) and of course, the 3 bells, described as being 'Of Historical Importance' and dating from 1450.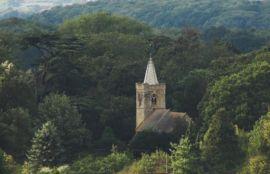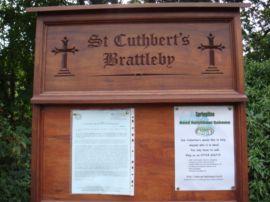 So where does Henry Eighth fit into the story? If you happen to be sitting in your garden one quiet summer day and hear the church bells striking in the distance, just think, those very same bells were calling Brattleby residents to church, 40 years before Henry the Eighth was born!
Try Googling- Brattleby church bells.
Mike Spencer.
08/06/20
Bored with 'lockdown'!
News Update February 2020
The warden Is Pauline Organ and she can be contacted through email or phone:
telephone:0 1427788629
News Update July 2019
Due to various resignations there are currently two members of the Church Committee remaining , Howard Townsend and Mike Spencer. No further updates were provided at this time.
News Update March 2019
added some links to explore churches at the end of this page.
News Update February 2019
Brattleby Friends of St Cuthbert's Church Committee.
A report by Mike Spencer Chairman
Requested by the Committee.
Formation and objectives:
In 2006 a small group of residents (mainly none church) made the decision to take steps to ensure the future of their historic, dilapidated grade 2* church, which was without doubt, in terminal decline from many years of neglect.
Initially, a working party was formed to clear the churchyard of a generation of rubbish, overgrown vegetation and 'chicken wire', making graves virtually impossible to attend.
The tower had not been entered for many years due to straw and pigeon droppings three feet deep, blocking the entry hatch.
From these small steps, the 'Brattleby Church Committee' was formed, embarking on a 'vigorous' fund raising appeal, simultaneously, carrying out numerous 'stop-gap' works in an attempt to slow the decay of the building.
In March 2008 I wrote to his Grace the Bishop of Grimsby (oddly, we didn't come under Lincoln) asking for assistance, with a number of issues, including the following.
• Who is the legal owner of St Cuthbert's?
• Are any funds available through 'church bodies'?
• Are there any remaining funds from the breakup of the original Springline group?
• Would it be possible for a senior member of the 'church' to meet the committee to discuss the future of St Cuthbert's?
Little actual assistance resulted from this request, other than, being advised to contact our Vicar.
Several interested members met with the then Vicar for advice. During the meeting, I was advised I had no business being Chairman, or having any involvement with the said committee as I was not a 'church goer'.
The committee, undeterred, decided to 'go it alone'.
Following a £500 Quinquennial (Architectural structural survey) report, it became clear, the building was in far greater danger than previously thought and required urgent and expensive restoration work.
By 2010, the committee had raised the required funds (£10,000) to apply to English Heritage for a Grant of £130,000 to carry out the urgent roof, tower and spire work. This was completed in 2013.
Brattleby is fortunate in having three of the oldest bells in the county, two dating from c1450.
As all three bells had not been heard ringing simultaneously in 'living memory', the committee was keen to see (should that be hear?) them brought back to ringing condition.
Unfortunately, the cost of returning the bells to 'full' ringing condition, at £45,000, was out of the question. The decision was taken for the bells to be restored and fitted in a 'static' position and rung electronically. This system allows the bells to strike both the time (accurately) and provision for them to be set to ring 'carillon' (bell peel), for weddings and other celebrations.
With the help of a bequest by Brattleby resident Ralph Fowler and a grant from the Garfield Weston Foundation - and of course, the tireless fund raising by the church committee –
the required £10,000 was raised to carry out this work.
The three bells were first rung again on the 18th of August 2014.
During the previously mentioned Quinquennial report, it was also stated, the electrical system in the church was in a dangerous condition, particularly that of the 'earthing' requirements.
The sum required to carry out this work would be £10,000.
Once again, the Friends of St Cuthbert's committee braced themselves for further Coffee Mornings, Cream Teas, Concerts……
As a result, in 2017, Brattleby church had a complete re-wire and a new heating and lighting system installed.
Currently, the committee is engaged in raising funds to replace decaying plasterwork in various parts of the church. £15,000 has been quoted for this work.
The eastern churchyard wall from the Thorpe Lane entrance, requires restoration and costings are being sought.
Only this week, it has been brought to the committee's attention, St Cuthbert's Church organ requires urgent restoration work. The quote for this is £5000.
The churchyard too, is managed by the Brattleby Church Committee. Throughout the year, the grass is cut on a regular basis and to a 'high standard' by a dedicated team of village volunteers. The footpath from Thorpe Lane to the church has recently been 're-edged' and gravelled. This was largely funded by a kind donation of £500 from Jane Strowger of Norwich, whose ancestors (the Clarkes) are interred therein. It was stipulated, this sum of money was to be used expressly for the upkeep of the churchyard.
The Parish Share issue 2015:
The Parish Share is the sum of money paid by parishes each year into the Diocesan Fund.
At the time, the Parish Share was calculated on per head of population of each individual village.
Unfortunately, the Brattleby liability included half of Aisthorpe and all of Thorpe le Fallows (and still does)
Again, at the time (2015) Scampton, population 780 (including the camp) had a Parish Share of £5.74 per head, and that of Ingham, population, 912, £5.36 per head.
Brattleby, however, with a population of 100, was being asked to pay, £17.31 per head! It was at this at this point the Committee took the decision to 'look again at this wholly unacceptable position. "It's either the church, or the Parish Share, we cannot, financially support both!"Was the committee's unanimous decision.
Parish Share current situation:
The "Friends of St Cuthbert's Church Committee" still continue to raise funds to support the fabric of the church and have an 'on-going' programme of restoration work planned.
However, since the above date, our finances are now divided as follows –
Any income directly earned by the church (wedding and funeral fees, collections etc) is kept separate from monies raised – or donated - expressly for the restoration and upkeep of the church as a building, and/or the churchyard.
As a result, of the £1400 Parish Share due this year, Brattleby will be paying to the PCC the sum of £984, directly derived from church activities, less electricity costs for the year (not know at the time of writing) as has been done in previous years.
It should also be noted, as Brattleby received a grant from English Heritage, we are obliged to insure the building for its full replacement value of 6.5 million pounds.The 2018 insurance premium for this is, £1188, which, for a number of years, has been paid from the funds raised by the Brattleby Church Committee, not those of the church.
As you will appreciate, the £1400 Parish Share and the insurance obligation suddenly becomes a grand total of £2172 per year, for a population of 95!I sincerely hope this explanation of both the Parish Share and the position of 'Brattleby Village Church committee' relating to this contentious issue is finally understood by all concerned?
Mike Spencer,
Chair, Friends of St Cuthbert's
15/01/19
Annual Christmas Carol Service is taking place on Friday 7 December 7pm at St Cuthbert's Church. All welcome!
News Update May 2018
Open Churches Weekend 19/20th May.
Brattleby St Cuthbert's will be open as usual, from 11am to 4pm both days. Tea/coffee and sliced cake available. Come and delve into the facinating history of our 1000 year old church and village. But before you do, why not Google 'brattleby church bells' and listen to the 15th century bells striking 12am on a warm summers day. Turn up the volume and catch the background birdsong......
News Update March 2018
Sincere thanks to Jane Strowger of Norwich for her generous donation of £500 towards the 'upkeep' of St Cuthbert's churchyard. Several of Jane's ancestors – the Clarkes and the Rolletts – are interred at the church.?It's intended to use the donation to improve the church footpath from Thorpe lane.
The Village Church Committee are in the process of seeking advice from the relevant bodies with a view to restoring the decaying plasterwork and redecoration of our Grade 2* St Cuthbert's church.
News Update December 2017
The Brattleby candle lit Carol Service with choir, will be held on Friday 22nd of December. Mulled wine and mince pies available. Arrive 6-30 pm for the wine/pies, service to commence 7pm.?Not to be missed!

Brattleby church grass cutting rota is due to be written for 2018. Should any community minded person wish to join the team, please contact John Spratley Church Warden or the author Mike Spencer.
News Update May 2017
West Lindsey Open Churches Weekend 13/14th May. As usual, Brattleby St Cuthbert's will be open from 11am to 4pm both days, where you're ensured of a warm welcome from the Village Church Committee. Call in for a cup of tea/coffee and a slice of cake, have a chat about village history. In fact, anything to do with the village or its future. Freshly made sandwiches available throughout the day.
News Update April 2017
The annual 'West Lindsey Open Churches Weekend' at St Cuthbert's Brattleby will take place 13/14th of May, 11 am until 4 pm each day. Any resident wishing to assist or be involved, please contact the author, or any member of the Village Church Committee. This is without doubt the 'biggest' and most interesting village event this year, with a focus on village history and community. Refreshments, sandwiches, cakes. Come and meet the residents, they're an interesting lot – well, most of them!
News Update January 2017
A Church Lighting Specialist Attended St Cuthbert's on the 3rd of December to give advice on re-wiring the church and providing improved heating and lighting.
Sincere thanks to the residents who assisted in the Christmas decoration of the Church.
The St Cuthbert's Carol Service of the 18th of December was attended by a congregation of 35.
News Update November 2015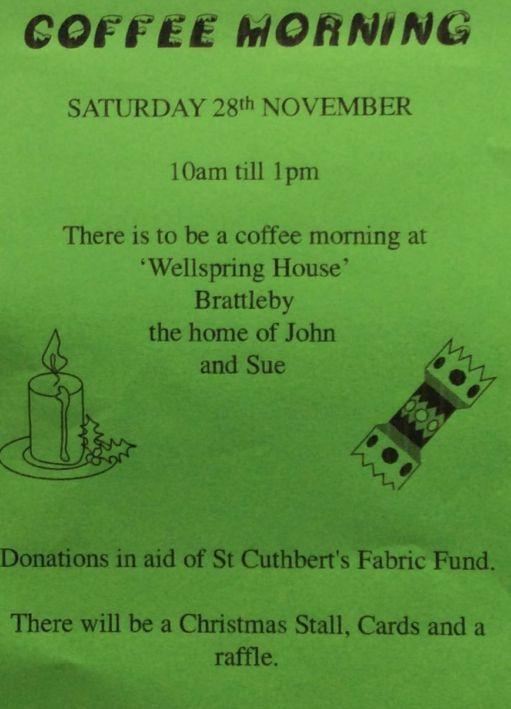 News Update September 2015
The Brattleby 'candle lit' Carol Service will be held at 7pm on Friday the 18th of December.
Cancellation: A Concert and 'light-hearted evening of song' by the 'Scothern Singers' will take place in St Cuthbert's Church Brattleby on Saturday 19th of September at 7pm. Tickets £5 ( including a glass of wine) can be obtained from the following, Anne Spencer 730466 – Chris Scott 730561 or Sue McGarry 731157.
News Update August 2015
The annual Brattleby Cream Tea Garden Party was held at 'Manor Ley' on the 5th of July.
The event raised £2300 towards church restoration funds.
Many thanks to all our supporters, Committee members and helpers from as far away as Retford!
News Update July 2015
Brattleby PC has been successful in it application to register St Cuthbert's Church as an Asset of Community Value by West Lindsey District Council under the Community Right to Bid, Part 5 Chapter 3 Localism Act 2011, Assets of Community Value (England) Regulations 2012.
The registration takes effect from Monday, 27 July 2015 and will expire on Monday, 27 July 2020. An entry on the Land Registry will now be made to show the property has been registered as an Asset of Community Value. See for more details the Parish Council page.
News Update June 2015
The annual 'Brattleby Cream Tea' will be held on Sunday 5th of July 2-5 pm at 'Manor Ley' School Lane, the Home of Anne and Mike Spencer.
Various attractions, including, 'Nearly New' good quality, ladies clothes, shoes and hand bags. Also on sale will be, home-made cakes, greetings cards, garden plants and a
tombola
.
Are you a community minded person? Would you be prepared to give around 4 hours a year towards a good cause? Do you like to see your home kept clean and tidy?
If your CV fits the above, Brattleby church is in dire need of 2 additional persons to join the church cleaning rota. Please contact Anne Spencer Tel. 730466. Hurry, you might miss one of life's great career opportunities!
The Open Churches weekend 9/10th of May proved to be a great success. Around 135 people attended over the 2 days. Our 'Ploughman's' Lunches are becoming legendary. £635 was raised for the Church Restoration Fund
. Sincere thanks to the members of the Church Committee.
See for the Open Churches festival and the Church opening time the following website:
http://www.churchesfestival.info/2014/03/brattleby-st-cuthbert.html
Open: 9th & 10th May 2015, Saturday 10am-4pm, Sunday 10am-4pm.
A Service will be held in St Cuthbert's Church Brattleby at 7 pm on Sunday 30th of March to celebrate the life of St Cuthbert. Drinks and nibbles and unmissable conversartion afterwards.
News Update December 2014
A Special Christmas day Family Service conducted by the Revd Sue Deacon will be held at 9am.
The Brattleby Candle lit Carol Service will be held on Sunday 14thof December, supported by the Scothern Choir (time to be announced).
News Update November 2014
There will be a cheese and wine evening on Saturday 15 November. Tickets @ £7 from Anne Spencer 730466, Chris Scott 730561 or Sue McGarry 731157.
News Update September 2014
The bells in the Church are ringing! See this video on youtube:
http://youtu.be/xOnM85oAr54 - copy and paste into your browser.
An Autumn Concert by The Spring Line Choir is to be held in St Cuthbert's Church on Saturday September 27th September 7-30pm.
Tickets £5.00 including nibbles, can be obtained from Anne Spencer 730466, Chris Scott 730561 or Sue McGarry 731157. (Limited to 65 persons)
Wine will be on sale at £2.00 per glass.
News Update August 2014
After what seems like a million Coffee Mornings and endless fundraising, on the 18th of August it all became a distant memory when - for the first time in perhaps a 100 years - all three of St Cuthbert's bells could be heard ringing once again.
Whatever the individual's thoughts may be regarding 'the church and religion' surely, even the most dogmatic amongst us can't help but be impressed, considering these very same bells were first heard in Brattleby 564 years ago.
To put this into some sort of perspective, Henry VI was on the throne, Henry VIII's reign was some 59 years away and The First World War would be 464 years in the future.
So I think it's safe to say, St Cuthbert's church and bells have been witness to a substantial amount of English history.
Due to the degradation of the oak bell frame – according to Taylor's Bell Founders, it too is most likely the same age – the bells have been sited higher in the tower and hung statically on a new steel girder and will now be rung electronically.
The possibility of having them 'full circle' ringing was considered, but at a cost of £45,000, this was deemed unattainable.
However, having the bells working electronically has its advantages insomuch as, the bells are able to be rung – via a clock – to strike the hour and quarters and is currently set to run from 8 am to 7 pm daily.
There's also provision to set the bells to ring for weddings, funerals or any other permutation which may be required.
As Chairman of the Village Church Committee, I
offer
my sincere thanks to other committee members for their tireless fundraising, without which this project would not have been possible. Thanks too, to all the people who've attended and supported our functions and events over the last 8 years and continue to do so, the majority of them from other local villages and from various parts of the country and abroad.
___________________________
As a tribute to the Brattleby residents who died during the Great War of 1914/18, there's currently a display of interesting documents relating to the 3 services, Army, Navy and RFC Brattleby, eventually to become RAF Scampton.
A very personal note -
I'm very much aware, if it were not for the bravery of one Major Harvey aboard HMS Lion during the Battle of Jutland in 1916, who had the forethought to order the flooding of the ammunition magazine following a direct hit and a huge fire, preventing the whole ship being blown out of the water - for which he paid with his life, - receiving a posthumous VC and in doing so saving my father's life and possibly the whole ships company - I would not be writing this news article today.
Mike Spencer 27/08/14
News Update July-August 2014
The recent Cream Tea afternoon held in the beautiful gardens of 'Sunnyside' the home of Chris and Jerry Scott raised £1835 towards church restoration funds
, many thanks to Chris and Jerry. Thanks too, to all the Committee members and friends of the church who worked over several days to produce this event. Although it rained 'biblical' proportions at one stage – after all it was in aid of the church – the above figure was the most ever raised at this event.
A Grant of £1500 has been received from the Garfield Weston Foundation towards the cost of restoring the church bells.
The three church bells currently undergoing restoration at Taylor's Bell Foundry in Loughborough are on schedule for return and re – hanging, on Monday 18th of August.
On Saturday 12th July a wedding was held in St Cuthbert's church. With paper hearts dangling from the trees, white bows on the gate and numerous bouquets in the church it really was, quite a special day!
For anyone considering a church wedding, St Cuthbert's is, without question, worth a look. With its 'old world' charm, well kept lawns, large trees and stone walls, it could well be the 'film set' for a Romantic Drama? Especially when the bells are back in situ!
And remember, there's nothing modern to spoil your photographs. It's like stepping back a 100 years!
MS 13/07/14
News Update June 2014
On Wednesday 14th of May the church bells were removed and displayed during 'Open Churches' weekend and have since been dispatched to Taylor's Bell Foundry for restoration.
Open Churches weekend 17/18th of May raised £464 towards church funds.
News Update May 2014
St Cuthbert's church bells are soon to be removed for renovation and will be on display during 'Open Churches' weekend on Saturday and Sunday 17/18th of May. This will be a 'once in a lifetime' opportunity to see and touch these 564 year old bells, some of the oldest in the county.
St Cuthbert's Brattleby Open Church Weekend will be held on 17/18th of May, 10am till 4 pm each day.
Tea coffee and biscuits will available as will a warm welcome. There will also be homemade cakes for sale. Ploughman's Lunches and sandwiches will be on sale throughout most of the day for weary church travellers.
Bring the children along for a history lesson and try and guess the weight of 'Katrina' prior to her vacation for a face lift and a bit of TLC! Child and adult prizes.
News Update March 2014
West Lindsey 'Open Churches Weekend' will take place on the weekend of, May 17/18. As always, Brattleby St Cuthbert's will be open both Saturday and Sunday 10am – 4pm. Serving food and drinks. The theme this year will be the 100th year since the commencement of the 1st World War. Further details in the April edition of the Village Venture.
News Update February 2014
The Brattleby Carol service was held on 15th of December 2013, around 35 people attended. The Raffle was drawn by Revd Bill Williams and raised £2040. This was split between Brattleby Church and the, St Andrew's Children's Hospice Grimsby – the only one of its type in Lincolnshire.
The event was organised by Jackie Strange with the aid of the Village Church Committee. Sincere thanks to all concerned – especially those who donated the main prizes, and to all residents who generously gave wrapped presents for the children, 53 in total! A letter of thanks has been received from the Hospice.
News Update December 2013