News Update October 2017
Re: Planning Application 136601 Corner Cottage Brattleby:

At the recent extraordinary meeting regarding the above application, my Parish Council voted unanimously, the application be refused, as it is not in accordance with the current Brattleby Neighbourhood Plan.
See for the full response the Planning page (left pane).
News Update September 2017
West Lindsey District Council hold the information about the Brattleby Neighbourhood Plan on the following pages (copy this text into your browser or click on the link at the end of this page): https://www.west-lindsey.gov.uk/my-services/planning-and-building/neighbourhood-planning/all-neighbourhood-plans-in-west-lindsey/brattleby-neighbourhood-plan/
There is one final stage for us to complete, and that is to formally pass the final Neighbourhood Plan over to WLDC at the next full council meeting. The next available meeting is on the 13th November at 7pm. More info nearer to the time.
Results Referendum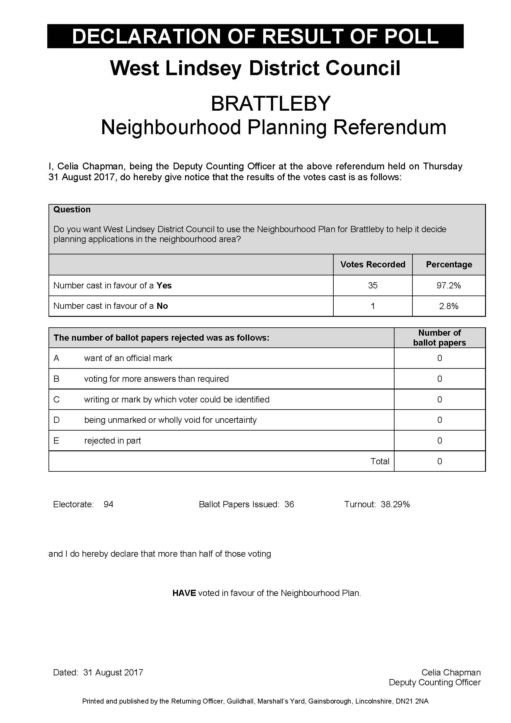 Decision Statemnet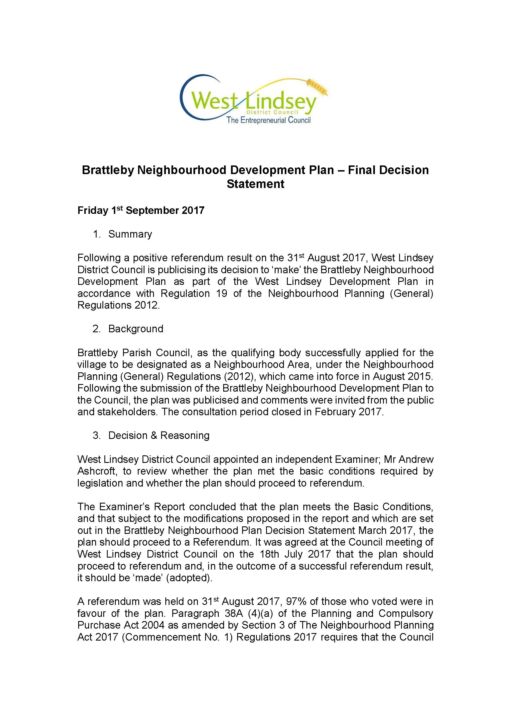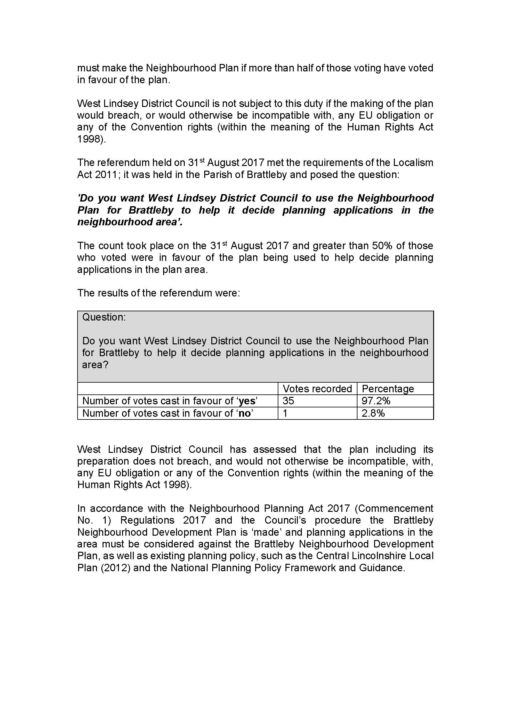 News Update August 2017
The Brattleby Neighbourhood Plan vote on 31 August returned 35 in favour and 1 against. So this means that it has been accepted by our community. Well done!
If you would like to attend the count after the referendum at the BSA Village Hall at 10:00pm, please email your details to the election office on or before Thursday 24 August so you can be issued with a ticket (otherwise entry will be refused). The email address is ereg@west-lindsey.gov.uk (Celia Chapman is dealing with this).
News Update July 2017
The date for the referendum has now been set at Thursday 31 August at the BSA Village Hall from 6am till 9pm.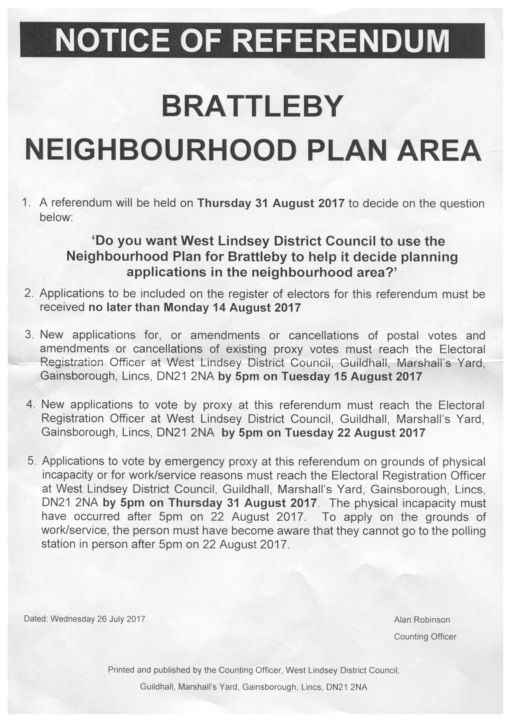 News Update May 2017
The final version for the Plan is now ready to be processed by the District Council for Approval. A referendum will follow after this, but likely to be held at the end of the summer.
A copy of the Plan can be found at the end of this page. Should you want your hard copy please let any PC member know and we'll make sure you get one.
News Update January 2017
The Plan has been completed and now needs to be checked and approved before it can be voted on in the Brattleby referendum (February 2017). If you would like to see a draft please contact any PC member.
News Update September 2016
A consultation event will take place on 4 October from 3-7pm at the BSA Village Hall. All welcome.
The draft plan for consultation can be found on the website link at the end of this page or you can copy or paste lines below in your browser:
https://www.west-lindsey.gov.uk/my-services/planning-and-building/neighbourhood-planning/neighbourhood-plans-being-prepared-in-west-lindsey/brattleby-neighbourhood-plan/
On Thursday 8th of September, the Brattleby Neighbourhood Plan Committee held their last meeting with WLDC Planning prior to the document going to print.
A 'Drop In' event for residents to view and give final comments on the plan, is to be held at the BSA Village Hall on Tuesday 4th of October from 4 to 7pm. refreshments will be available.
News Update May 2016
There will be a meeting of the Neighbourhood Plan team at Manor Ley 2pm Thursday 19 May. This is to make any final amendments or additions prior to completion.
You are invited to a Residents Consultation Evening following the 'Annual Brattleby Parish Meeting' at the BSA Village Hall on Wednesday 4th of May, commencing at 7pm.
A 'Power Point' presentation outlining the main Neighbourhood Planning draft policy will be given by West Lindsey NDP Officer, Luke Brown and Natalie Cockerell, Independent Planning Consultant.
Members of the NDP Committee and Planning Officers will be available to provide advice and take note of suggestions and comments.
Please Note.
This may be the last opportunity you have to comment and make representations as to how you would like to see your village develop between 2016 and 2036!
Complimentary wine and nibbles will be available.
Mike Spencer,
Brattleby Parish Council,
Neighbourhood Planning Committee.
News Update January 2016
The next meeting of the Brattleby Neighbourhood Plan will be held at 2pm on Friday 12th of February at 'Manor Ley'. All welcome to attend!
News Update December 2015
A draft summary of the survey can be found below in the attachments. Paper copies can be obtained from Mike Spencer.
News Update November 2015
Paper copies of the survey have been distributed to all households in the village. Please return these at your earliest convenience to Mike Spencer at Manor Ley School Lane. Thank you!
News Update October 2015
Next meeting with Luke (WLDC) to discuss progress of the Neighbourhood Plan is on Friday 16 October 2pm at Manor Ley. All welcome.
Results of the Residents Participation and Consultation Session
Held at the BSA Village Hall on Tuesday 28th of September 2015
From 4 -7pm. 32 Residents Attended, 30% of the Adult Population.
The following observations were made.
1. Speeding traffic through the village 5
2. Protect existing open spaces 5
3. Improved Broadband 4
4. New buildings to reflect character of village and existing dwellings 3
5. Affordable homes (for young, or local people to 'downsize') 3
6. Protect the environment and local character 2
7. Dog fouling issue 3
8. Better public transport 1
9. Poor roads 1
10. Fly-tipping 1
11. Trim hedges and verges where there are footpaths 1
12. A community shop?
A sample of comments -
"Protect our open spaces and green areas".
"Speeding traffic".
"Keep the hedges and footpaths trimmed to enable people to walk on them with pushchairs etc".
"Improved Broadband and mobile phone reception for people working from home".
"Brattleby is a traditional village with links to the farming community".
"Good choice of public footpaths and bridleways".
"A lack of 'smaller' houses for local people downsizing, or young people".
" Any new building should be in keeping with the village".
"Dog fouling".
"Fly-tipping".
News Update September 2015
Dear Resident,
As you are no doubt aware, your Parish Council is in the process of producing a Brattleby Neighbourhood Plan. This will have the power to shape the future planning strategy (and a whole range of other issues relating to the village) for the next twenty years.
Neighbourhood Plans relate to the use and development of land and associated social, economic and environmental issues. It can also deal with a wide range of subjects including, housing, employment, heritage and transport, or any other issues or village requirements which may be of particular interest to residents.
This will be one of the most important and far reaching events to take place in the village in recent years. Therefore, we have arranged a residents 'drop in' and 'question and answer' session.
This will take place at the BSA Village Hall Aisthorpe Monday 28th of September, 4pm – 7pm.
Members of the Parish Council and representatives from WLDC Planning will be available to answer your questions and take note of your views and suggestions. There will also be maps and other visual aids on display.
Why not pop in, have a cup of tea or coffee and give us your vision of the future for your village?
Mike Spencer,
Chairman Brattleby Parish Council.
Update August 2015
Brattleby Parish Council has taken the decision to apply for Neighbourhood Development Plan status. This scheme is now in progress.
For a plan to become a 'legal document' and have power, it's essential the residents opinions, views and wishes are taken in to consideration and they engage with the P/C in this process.
Any resident wishing to take an active part in this hugely important task to 'shape' village design for the next 20 years, please contact the author or any member of the P/C.
Ongoing information relating to this will be available both on the village web site and notice board.
A drop in session will take place on Monday 28 September from 4-8pm at the BSA village hall
Residents will be notified by letter of this event.
Lincolnshire Plan
The Draft Local Plan is now out in the public domain – the link to the webpage where this may be found on the North Kesteven website is listed below